Mother's Day Spa Escape

---
---
Join our needle felting teacher, Jeanne Judah, for this fabulous 2-D needle felted cat on May 17
. Bring photos of your cat and some of your cat's fur (if you want) to make a back view of your cat.
---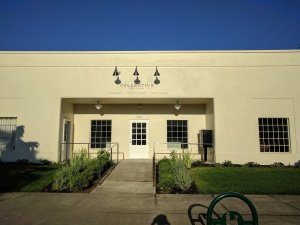 Graduate with honors in this year's Collective Craft camp on May 12 from 10am-4pm! This camp for grown-ups includes four hands-on classes: Sewing with Kelly of Casa Crafty, Crochet 101 or Crochet Advanced with Tina of Black Sheep Fiber, Homemade Lip Balm with Dorrie of 3 Blind Mice, and Scones with Mindy of Decadent Creations Bakery. Come spend a special day crafting with friends.
Lunch and coffee/tea will be included by Decadent Creations Bakery plus optional wine tasting by Dan'u Winery. Ages: 21+
Each participant will attend three craft classes in rotating small groups of approx 4, so there will be lots of individual attention. The three rotating groups will join together mid-day for Mindy's scone class and lunch. Please email us if you plan to attend this camp with friends that purchase tickets separately so we can place you in the modules together.
---



Themed Monthly Events


Join us the second Friday of every month from 6-8pm for a fun themed event. This month is "Pajamas and Popcorn." Bring your own beverage and project, wear your pajamas, we'll have popcorn and possibly a movie! All crafts welcome, so bring a friend. Look for Pretty in Pink in June.
---
May 19 & 26

Teacher: Tina Johnston

Beginning Crochet
May 20 & 27
Teacher: Lynn Blankenship

2-D Needle Felted Cat
May 17
Teacher: Jeanne Judah

Next Steps in Crochet
May 18 & 25
Teacher: Lynn Blankenship
Do you have an idea for a class? Submit it to kelli@blacksheepatorenco.com
---
BlackSheep Fiber Emporium
173 NE 3rd Ave, Suite 103
Hillsboro, OR 97124
971-732-5391
tina@blacksheepatorenco.com

Hours:
Monday-Closed
Tuesday- 10am-6pm
Wednesday- 12-6pm
Thursday- 12-8pm
Friday- 12-6pm
Saturday- 10am-6pm
Sunday-Closed