Holiday Deals, Classes, & More!

---
Shop our Holiday Open House!
Tina is opening the shop for a special Holiday Shopping Event. There will be discounts, exchanges, and new clearance items. Join Tina at her home and new BlackSheep shop, 6154 NE Brighton St., Hillsboro, OR on:

Thursday, Dec. 12 from 10am to 6pm
Friday, Dec. 13 from 12-8:30pm PLUS Christmas Cookie* & Yarn Buster Stash Exchange** at 6:30pm
Saturday, Dec. 14 from 10am to 6pm, Saturday Morning Group at Tina's 10:30am-12pm, PLUS Yarn Buster Stash Exchange** at 11:30am
Tuesday, Dec. 17 from 10:30am to 12pm for Tuesday Morning Group

Can't make the open house? No worries. Check out our online specials for the 12 Days of Christmas below!
*Cookie Exchange directions- bring at least one dozen cookies to share and exchange
**Yarn Buster Stash Exchange directions- bring 1 skein of sock yarn skeined or wound, at least $25 in value, in good condition, wrapped, and leave it in the tote by the door; everyone who participated will pick a new package at the designated time
---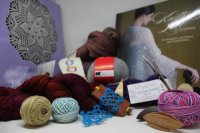 12 Days of Christmas Deals
We love holiday deals and had a blast deciding on what to discount. As usual, we will hold your order (unless specified) until Dec. 26 and ship your order(s) as one. We will also refund your shipping if you spend $75+ during the 12 Days of Christmas Deals.

Dec. 12-Needles* & Hooks- 15% off code: yay
*Signature needles are 10% off code: signature
Dec. 13-Books, Magazines, & Patterns- 20% Off code: lovepaper
Dec. 14-Alexandra- 20% off & discounted by us
Dec. 15- Universal Superwash- 20% off

& discounted by us
Dec. 16-Thread- 20% off code: morethreadforme
Dec. 17-Studio Donegal- 20% off

& discounted by us
Dec. 18-Lilliput & Ryberry- 20% off

& discounted by us
Dec. 19- Kokomo Recommends- 20% Off code: kokomolove
Dec. 20-Veggie Day (cotton & bamboo yarns)- 20% Off

& discounted by us
Dec. 21-Laceweight- 20% code: lacelove
Dec. 22- Notions & Buttons Day- 20% off code: neverenough
Dec. 23- Kits- 20% Off code: ineedkits
Dec. 24 Bonus Day- Free Project Bag with every purchase of $50+ (no code needed, we will just put one in!)
---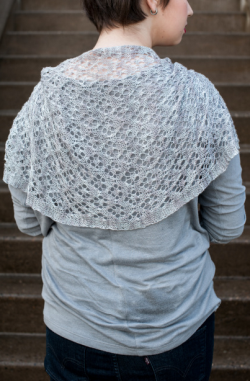 Classes!
Tina is teaching a few classes again at the Oregon shop/ her house. Join her in January for beginning knitting, beginning knitted lace, swatching, and/or finishing. Check the full list of classes here.
---
Fast and Fun!
Have you been reluctant to try our new fingering weight tweed? Shy about playing with colorwork? Fearful of steeking? This might be just the kit to conquer your fears. The Victor mitts are worked in the round. Only two colors are ever used in a single row, making the colorwork fast and easy. There is a steek section in the instructions so when you are finished, you can cut it open. Needle felt the edges of your little thumb-hole steek down and enjoy your quick and satisfying mitts.
Victor Mitts Kit
---
Check Your Account Online
Keep track of your points and rewards online! Did you know you can create a login and check your points balance through the website? You can even redeem your rewards through the website. You earn $5 back for every $100 spent. We may have closed the physical store, but you still earn points and are able to redeem rewards on all purchases (whether from the website or a festival).


Go here to register.

:)


---
BlackSheep Fiber Emporium
6154 NE Brighton St
Hillsboro, OR 97124
971-732-5391
tina@blacksheepatorenco.com

Hours: