Lace Books, FaceBook chats, and fun!

---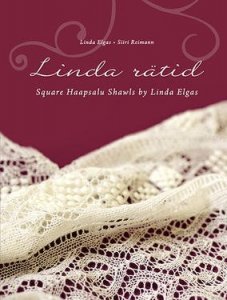 ---
New Items and Kits!


We ordered some new Kiriki sampler kits and adorable pendant kits. Kelli has been stitching on the Honeybee Sampler and really enjoying it. The Kiriki kits come with pattern, floss, and pre-printed cloth so you can start right away! Make sure to pick up some John James needles and you are ready to go! Not to mention the cute new needle minders. Who needs a llama?

There are still some Rosita Shawl kits available. This Shetland pattern inspired piece is a 3/4 octagon so it sits nicely around your shoulders. With the springy PCC yarn, the lace pattern pops. We even included some stitch markers to make it easy to keep track of your pattern.
---
BlackSheep FaceBook Live Videos!

Kelli and Tina are hosting FaceBook Live videos every week on the BlackSheep Page. Kelli is posting at about 2pm CST and Tina posts closer to 3pm PST. Join us live or watch the videos later for lessons on blocking, tatting, cabling without a cable needle, and more. Kelli is planning videos on Monday (darning) and Wednesday (maybe basic lace?) next week.

Don't forget the free shipping on all US orders through May 31! No code needed. International customers, email us for a discounted shipping quote.

---
Discounts For All!
We need some cheer, so let's take 10% off all orders PLUS get free shipping (email us for a discounted international shipping quote) with code "blacksheepcrafttime" through May 31, 2020. Now is a great time to get started on your Christmas presents and birthday gifts.
---

Sabudana Khichdi

I love this savory take on tapioca. My husband says this is "fasting food," but we eat it for breakfast and Ina loves it too.


Ingredients:
1 cup sabudana
1/2 cup peanuts
3 small or 2 medium potatoes
1/2 tsp. salt
1 tsp. sugar
3 tbsp. oil
1 tsp. cumin seed
1 chopped green chili
(2-3 curry leaves optional)
1 tsp. lemon juice
1/4 cup chopped cilantro

Directions:

1. Rinse 1 cup
Sabudana or tapioca pearls
in a colander in running water until all the starch is washed away. Soak the sabudana in water for 8-12 hours. The water should be an inch or so deeper than the top of the sabudana.
2. Strain the sabudana well.
3. Roast the peanuts in a skillet with a tablespoon of olive oil. (You can dry roast instead)
4.Small dice the potatoes and fry in a skillet until soft inside and crispy outside. Move to a bowl
5. Fry cumin just until fragrant. Then saute the chopped green chili until soft. (Saute the curry leves if using.)
6. Add the potatoes back to the skillet with the sabudana, salt, and sugar. Cook just until translucent.
7. Stir in lemon juice. Sprinkle chopped cilantro on top.


---
Keep track of your points and rewards online! Did you know you can create a login and check your points balance through the website? You can even redeem your rewards through the website. You earn $5 back for every $100 spent. We may have closed the physical store, but you still earn points and are able to redeem rewards on all purchases (whether from the website or a festival).


Go here to register.

:)


---
BlackSheep Fiber Emporium
6154 NE Brighton St
Hillsboro, OR 97124
503-380-8462
tina@blacksheepatorenco.com

Hours: