Craft Alongs and Clearance!

---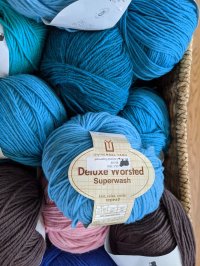 Summer Clearance!
We have a fabulous selection of clearance yarn right now. These are yarns that we can no longer source or have chosen to no longer carry. Out with the old and in with the new. Snag some great yarn at amazing prices and help us make room.
Don't forget the books! We have some overstocked books on sale too.
25% off the following books: Curls, Curls 2, Curls 3, Froth and Foam
40% off the following books: Wearable KnitWits, One-Piece Knits, Knit Along With Debbie Macomber
---
Summer Time Knitting/Crochet A-Longs
Join Kelli on Mondays and Wednesdays in July for her lace knitalong. This fun piece is knit sideways with triple yarnovers, yarnovers at the beginning of a row, and short rows.

July Lace KAL- The Elroy Shawl, Handmaiden Sea Lace or Silk Lace, started July 6, but join in any time.
It's time for summer knitting and that means Tina can really crack out the veggies. T-shirts and tanks are perfect summer projects to pair with lace and fingering weight cotton, bamboo, Tencel, and linens. Prep for our next Knit-A-Long/Crochet-A-Long by choosing your Handmaiden Sea Silk for the KAL or Universal Flax Lace for the CAL.
KAL- Sea Silk Shirt, Handmaiden Sea Silk
CAL- Mesh-Up Tee, Universal Flax Lace
K/CAL starts July 10, 2020 and will be featured in Tina's Friday videos
Join Tina and Kelli on the BlackSheep FaceBook Page Mon, Wed, and Fri around Noon-1pm Oregon Time for live videos, question/answer, and help. If you miss these live chats we put many of them up afterwards on our YouTube channel.
---

New Location!


Tina has moved and that means the shop has too. In the near future, you will be able to pick-up orders, make in-person appointments, and occasionally meet for groups at 1310 NE 21st Ave, Hillsboro, OR 97124. Please contact Tina (tina@blacksheepatorenco.com) with questions or appointment requests.
---
2020 Slow Yarn Crawl
It's back! We are "couch crawling" with online purchases throughout the summer. Once things open up, you may still travel to the stores to receive your passport stamps. BlackSheep is even participating as a donor. We're having extra drawings for any purchases by crawlers during the Slow Yarn Crawl. For more info, check out our Events page at BlackSheep or go to the Slow Crawl website.
---
Keep track of your points and rewards online! Did you know you can create a login and check your points balance through the website? You can even redeem your rewards through the website. You earn $5 back for every $100 spent. We may have closed the physical store, but you still earn points and are able to redeem rewards on all purchases (whether from the website or a festival).


Go here to register.

:)


---
BlackSheep Fiber Emporium
6154 NE Brighton St
Hillsboro, OR 97124
503-380-8462
tina@blacksheepatorenco.com

Hours: