---
It's a Moving Sale!
What's better than new inventory? Well, a big sale, of course. Tina and David are moving and that means it's time to cut back on the inventory. Take 25% off almost everything* from August 4 through August 7. No code needed!

Are you local? Join Tina for special open house hours! Tina is having open hours from noon until 6pm every night from Wednesday through Saturday this week (that's August 4 through 7), so no appointment needed. Just drop in and shop away.
* Clearance, Spinning Wheels, and Looms excluded. Free shipping is suspended during the sale, but we will have flat rate shipping.
---
Waterlillies Scarf Knit-A-Long
Join Kelli on Mondays in August live on our Facebook page for an Estonian lace KAL. If you miss her videos, they will be available on our YouTube channel. Kelli is using Handmaiden SeaSilk for her shawl, but you can use most heavy-lace or light-fingering weight yarns for this fun sideways knit scarf.
Find the PDF here
Find the Yarn here
---


Sashiko Kits & Olympus Thread Pre-Order

You loved the Olympus metallic and the sashiko kits so much we are ordering them again! Pre-Order your thread and kits to be sure you receive one as our order will be limited. Pre-orders may take 6-8 weeks to ship as these will be ordered directly from Japan.

Olympus Metallic Thread Pre-Order
Sashiko Kits Pre-Order
---
Tunisian Crochet-A-Long
Join Tina on the BlackSheep Fiber Emporium YouTube channel for a video series Tunisian Crochet-A-Long using the Venus Shawl by Aiobhe Ni. This lovely lacy Tunisian Shawl is great practice for your Tunisian Crochet skills. While Toni picked Ginger Twist, Tina is using Teresa Ruch 10/2. Tina is already planning a second project from Aiobhe Ni in our Gleem Lace.
---


In-Person Groups Are Back

If you are local, our in-person groups are back! Join Tina on Thursday nights from 6:30-8pm and again on Saturday mornings from 10:30am-12pm for in-person groups. Groups meet in the backyard, so bring a project and hang out.

---


Slow Yarn Crawl is On!

Don't know what the Slow Crawl is? Check out this link to www.slowcrawl.com for more info. Essentially it's 32 shops, 50 patterns, and a whole summer to crawl with prizes, patterns, and fun. Whether you choose to crawl in-person or online, this is a slooooowwww crawl, giving you plenty of time to finish.

Our Knit Pattern- Frost Fall
Our Crochet Pattern- Grandma's Flower Afghan
Frost Fall Kit

Grandma's Flower Afghan Kit
---

Join us for the Needle Crafter's
Year of Self Care 2021!
How Do I Participate?
You want to join us? Whoo! That sounds amazing. Just pick a craft project or activity that fits each monthly theme and tag us with #BSFE on FB, Instagram, YouTube, Twitter, or TikTok.
Want to learn more? Click the logo or click here!
August's Contest(s)
1) What are you doing?

Show us what you are working on. Use the tags #blacksheepfiberemporium or #BSFE then post it to social media for us to see. We'll pick our favorite(s) to share on the BlackSheep feed and maybe in the newsletter!
---
We Talk and Teach Every Week!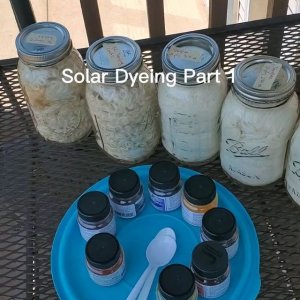 Did you know we have giveaways, solicit ideas for "online skill videos," teach, and chat all week? Join Kelli on the BlackSheep FaceBook Page Mon. and Wed. around 1:30pm Oregon Time for live videos, question/answer, and help. If you miss these live chats we put many of them up afterwards on our YouTube channel. Tina is creating almost daily videos which she posts to YouTube and shares on FB. Plus, we post short video tutorials to TikTok on our @blacksheepfiber channel and regularly post to both Instagram and Facebook. Check us out on your favorite medium. (look for blacksheepfiber or blacksheepfiberemporium)