Irish Crochet, Spin Together, and So Much More!

---
Irish Crochet!
Tina has been enjoying the Irish crochet classes that she started during the 2021 IOLI UnConvention and found a fun Japanese book on Irish crochet. We couldn't resist ordering a few copies. Do you love Irish crochet too? Pick up a copy of the book here!
---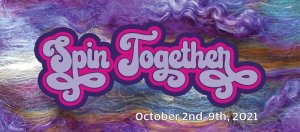 Join our Spin Together Team!
Kelli really wanted to have a Spin Together team, so this year we joined as the BlackSheep Voyagers! What is Spin Together? Well, it's a friendly competition to spin as much yardage as you can from noon local time on Oct. 2nd through noon local time on Oct. 9. Our goals are camaraderie, fun, and sharing the joy of fiber and spinning. We may not win a prize, but we will definitely have some extra team prizes just because we can. If this sounds like fun, you can join our team at www.spintogether.org.
---


Stitch-A-Long & Kit Pre-Order

Kelli is a fan of Kiriki Press and when Michelle released this pre-order kit she had to get one. The kit is so gorgeous that Kelli is hosting a Stitch-A-Long later this month. You can pre-order the kit here and watch the FB page and YouTube channel for videos about the SAL.
---


In-Person Groups Are Back

If you are local, our in-person groups are back! Join Tina on Thursday nights from 6:30-8pm and again on Saturday mornings from 10:30am-12pm for in-person groups. Groups meet in the backyard, so bring a project and hang out.

---


Last Weekend for Slow Yarn Crawl

Don't know what the Slow Crawl is? Check out this link to www.slowcrawl.com for more info. Essentially it's 32 shops, 50 patterns, and a whole summer to crawl with prizes, patterns, and fun. Whether you choose to crawl in-person or online, this is a slooooowwww crawl, giving you plenty of time to finish but the crawl ends Sept. 6!

Our Knit Pattern- Frost Fall
Our Crochet Pattern- Grandma's Flower Afghan
Frost Fall Kit

Grandma's Flower Afghan Kit
---

Join us for the Needle Crafter's
Year of Self Care 2021!
How Do I Participate?
You want to join us? Whoo! That sounds amazing. Just pick a craft project or activity that fits each monthly theme and tag us with #BSFE on FB, Instagram, YouTube, Twitter, or TikTok.
Want to learn more? Click the logo or click here!
September's Contest(s)
1) What are you doing?

Show us what you are working on. Use the tags #blacksheepfiberemporium or #BSFE then post it to social media for us to see. We'll pick our favorite(s) to share on the BlackSheep feed and maybe in the newsletter!
---
We Talk and Teach Every Week!
Did you know we have giveaways, solicit ideas for "online skill videos," teach, and chat all week? Join Kelli on the BlackSheep FaceBook Page Mon. and Wed. around 1:30pm Oregon Time for live videos, question/answer, and help. If you miss these live chats we put many of them up afterwards on our YouTube channel. Tina is creating almost daily videos which she posts to YouTube and shares on FB. Plus, we post short video tutorials to TikTok on our @blacksheepfiber channel and regularly post to both Instagram and Facebook. Check us out on your favorite medium. (look for blacksheepfiber or blacksheepfiberemporium)
---
Keep track of your points and rewards online! Did you know you can create a login and check your points balance through the website? You can even redeem your rewards through the website. You earn $5 back for every $100 spent. We may have closed the physical store, but you still earn points and are able to redeem rewards on all purchases (whether from the website or a festival).


Go here to register.

:)


---
BlackSheep Fiber Emporium
1310 NE 21st Ave
Hillsboro, OR 97124
503-380-8462
tina@blacksheepatorenco.com

Hours: