---
Christmas Pudding Hat Free through Dec. 24!
Happiest of Holidays to all of our wonderful friends and customers. Tina has been working on this adorable Christmas Pudding Hat pattern for ages. She finally finished the pattern and decided to give it away to all of you for free! This quick colorwork hat works up fast in worsted weight yarn. We even made kits if you need a quick gift for the holidays.

---
Advent Videos with Tina!
Join Tina every day in December for a make-a-long marathon. From embroidered pillowcases to the advent calendar to yummy baked treats, Tina is putting up a video every day with fun things. Looking for the advent calendar for yourself? Grab a kit here!

---
Happy Holidays & 12 Days of Christmas Deals
We wanted to say Happy Holidays to all of our wonderful customers with a special discount every day for 12 days. Starting Dec. 13 and ending Dec. 24, we are offering 12 days of Christmas deals to make your crafting days bright. Want to see the list? Here's a peak! We will hold all discount orders for 5 days to combine shipping unless you tell us otherwise. Plus use code "12days" for free shipping on your orders from Dec. 13 through Dec. 24.

Day 1 (Dec. 13): Spinning fiber 20% off
Day 2 (Dec. 14): Worsted Yarn 25% off
Day 3 (Dec. 15): Notions and Needles 20% off
Day 4 (Dec. 16): Books are 20% off
Day 5 (Dec. 17): Thread 20% off
Day 6 (Dec 18): Embroidery Kits 20% Off
Day 7 (Dec. 19): Spend $50 and get a free project bag.
Day 8 (Dec. 20): Lace-making Tools 20% off
Day 9 (Dec. 21): Sock yarns, sock books, and sock rulers 20% off
Day 10(Dec. 22): Tweed 20% off
Day 11 (Dec. 23): Lace weight 20% off
Day 12 (Dec. 24): Surprise Gift! Spend $25+ and get a surprise gift with your purchase
---
Last Chance!
Have you taken advantage of our pre-order madness? We love bringing in fun new things, but we don't want to run out. Pre-orders help us to have enough on hand to make everyone happy. Looking for all of our pre-order items? Try searching for pre-order on the website. We are putting in one last Japanese order this year, so get your order in quick!
---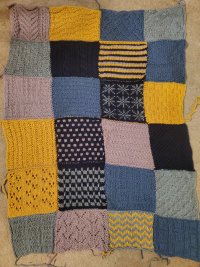 Blanket-A-Long with Purly Shell Pirates!!
Heather and Danielle, the Purly Shell Pirates, asked if we wanted to host a Temperature Blanket-A-Long and in true BlackSheep fashion, we said yes and no. HAHA! Yes, we will do blankets but they may not be true temperature blankets. Let's be honest, Kelli & Tina like projects that you can complete a little more quickly. However, we love the idea of a Blanket-A-Long so we are joining in.

This is going to be a VERY relaxed CAL/KAL/SAL that you can join at any time. We will have a Facebook group where we can chat and share inspiration. Tina is giving away her Grandma's Flowered Afghan pattern to participants and Kelli is giving away her BlackSheep Blanket-A-Long pattern. We will also have kits available in various colors, yarns, and palettes available. Plus, we decided it would be fun to have a stitch-a-long option too. Tina will be stitching a monthly square and you can find those kits here. If this sounds like fun to you, you can join the Facebook Group here or find out more info here.
---
Winter Lace Conference
Did you hear? Winter Lace Conference is back in person for 2022! Kelli is so excited to be teaching Mediterranean Knotted Lace on Friday, Estonian Lace Knitting Saturday & Sunday, and a Not Just Wool for Lace Knitting sampler class on Monday. There is still a little room in her classes and plenty of time to sign up, but we hope you'll join Kelli & Tina at the Winter Lace Conference in Costa Mesa, CA for a bit of "BlackSheep on the Road" and some fabulous classes!
---


In-Person Groups Are Back

If you are local, our in-person groups are back! Join Tina on Thursday nights from 6:30-8pm and again on Saturday mornings from 10:30am-12pm for in-person groups. Groups will meet in the shop and must be masked and socially distanced. Please contact Tina (tina@blacksheepatorenco.com or 503-380-8462) to add your name to the contact list for groups so we can stay safe and crafty.
---

Join us for the Needle Crafter's
Year of Self Care 2021!
How Do I Participate?
You want to join us? Whoo! That sounds amazing. Just pick a craft project or activity that fits each monthly theme and tag us with #BSFE on FB, Instagram, YouTube, Twitter, or TikTok.
Want to learn more? Click the logo or click here!

December's Contest
1) What are you doing?

Show us what you are working on. Use the tags #blacksheepfiberemporium or #BSFE then post it to social media for us to see. We'll pick our favorite(s) to share on the BlackSheep feed and maybe in the newsletter!
---
We Talk and Teach Every Week!
Did you know we have giveaways, solicit ideas for "online skill videos," teach, and chat all week? Join Kelli on the BlackSheep FaceBook Page Mon. and Wed. around 1:00 pm Oregon Time for live videos, question/answer, and help. If you miss these live chats we put many of them up afterwards on our YouTube channel. Tina is creating almost daily videos which she posts to YouTube and shares on FB. Plus, we post short video tutorials to TikTok on our @blacksheepfiber channel and regularly post to both Instagram and Facebook. Check us out on your favorite medium. (look for blacksheepfiber or blacksheepfiberemporium)