Updates and Coming Up!

---
Lace Retreat Update
For years, Kelli & Tina have talked about hosting a lace retreat and this year it's happening! Join Kelli Sept. 9 through 11 in Baraboo, WI at the 8th and East Crafts Retreat for 4 different classes in knitted lace, tatted lace, and Mediterranean Knotted Lace/Bibilla. Kelli's friend Linda is opening a brand new retreat center and we will be the first to try it out!

Check out the classes, schedule, accommodations, and more at A Twisted Picot Lace Retreat. If you are nearby, we will have vending open both days, lace togethers, make and takes, and fun things to do! So tell your friends and spread the word, we're having a lace retreat in September. (At this time Tina's classes have been canceled and Kelli's classes have low enrollment. Kelli will bring a pop-up shop for Sept. 9 and 10 even if all classes are canceled.)

A Twisted Picot Lace Retreat
Baraboo, WI
Sept. 9-11, 2022


---
New Books!
If you love crochet, knitted hats, and beautiful sashiko then these books are for you. Take a wander through our book selection and see what needs to be on your shelf.

Books

---




Snails, Tweezers, and Aoi, Oh My!



We love these little snail tape measures so we had to get some for the shop. They come in three colors: pink, green, and turquoise. Ina already begged her mom for a pink one.

We had a request for long tweezers to help with picking up beads so now you can find long tweezers in our notions section.

The Daruma Aoi is a lovely 25 g ball of long-staple cotton thread. It comes in 21 colors and 145 m to the ball.
---


New Kiriki Press Kits and Threaders!

We love the needle threaders from Kiriki Press. They are pretty, practical, and sturdy! This set of poppies is lovely and Tina cant wait to add one to her tool kit.

Plus have you seen the new SUPER CUTE constellation series kits? Each one comes with the printed fabric, thread, needle, instructions, and a beechwood hoop for finishing! We have a few of the kits in stock, but will take pre-orders for the rest.

---


Lace Embrace Oklahoma

Kelli is making the trek to Bartlesville, OK for the Lace Embrace Day on October 1, 2022. So if you've been hoping to see some of our fabulous lace stuff in person come on over! Bobbins, thread, shuttles, books, and everything that Kelli can fit in the car will be on display and ready to go home with you. We've really embraced lace and traveling to events this year so we hope you'll come on out and see us.

---

Oregon Flock and Fiber

Tina is back at Oregon Flock and Fiber this fall. Mark your calendars and make your plans for October 15-16 at the Linn County Expo Center in Albany, OR. Tina will have all of the wooly goodness on display along with books, notions, and so much more!


---


We Support Ukraine

Tina and Kelli have been working on some patterns and kits for sunflowers for Ukraine. Kits and patterns are available now with all profits going to World Central Kitchen or Global Giving.

You can order your Tatted, Med. Knotted Lace, or Embroidery kit here or order just the PDF pattern here. The PDF pattern will include all of the sunflower patterns we create in all of the needlearts.

---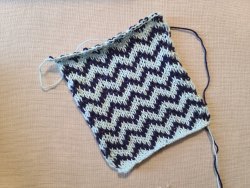 Blanket-A-Long with Purly Shell Pirates!!
Heather and Danielle, the Purly Shell Pirates, asked if we wanted to host a Temperature Blanket-A-Long and in true BlackSheep fashion, we said yes and no. We are making blankets, but with a twist.

This is a VERY relaxed Crochet/Knit/Stitch/Tat-a-long that you can join at any time. We have a Facebook group where we can chat and share inspiration. Tina's Grandma's Flower Afghan pattern is free to participants and Kelli's BlackSheep Blanket-A-Long pattern is too. We also have kits available in various colors, yarns, and palettes.

Plus, we decided it would be fun to have a stitch-a-long option too. Tina is stitching a monthly square and you can find those kits here. Kelli is also tatting a temperature table runner and has a free pattern on our Knit/Crochet-a-long page. If this sounds like fun to you, you can join the Facebook Group here or find out more info here.

---
We Talk and Teach Every Week!





Did you know we have giveaways, solicit ideas for "online skill videos," teach, and chat all week? Join Kelli & Tina on the YouTube channel, TikTok, Instagram, and Facebook. Leave a comment or send us an email if you want us to teach something specific.

---
Keep track of your points and rewards online! Did you know you can create a login and check your points balance through the website? You can even redeem your rewards through the website. You earn $5 back for every $100 spent whether from the website or a festival.


Go here to register.

:)


---
BlackSheep Fiber Emporium
634 E Main St
Hillsboro, OR 97124
503-380-8462
tina@blacksheepatorenco.com
Your online local store