It's My Birthday Month! Discounts Galore!

---

Celebrate Kelli and Ina's Birthday Month with Discounts!
November is a busy month with both Kelli and her daughter Ina's birthday, and what's more fun than sharing the celebration with you? Starting Nov. 18, all threads, tatting shuttles, and Studio Donegal is 10% off! Plus look for other random discounts on some of Kelli's favorite books and supplies. This special sale ends Nov. 28 on Ina's birthday and it's the only sale on thread this year!
Tatting Shuttles
Thread
Studio Donegal
Froth and Foam
Hoppy Feet
---
Chunky, Worsted, Fingering?
What is your favorite sweater-weight yarn? Kelli is playing with the Soft Chunky to design a new sweater, but is that her favorite weight? No! Kelli's favorite is the fingering weight Donegal like Ann Budd used for the Ardis Sweater. The lovely Laskeran sweater from Melissa Leapman in our Soft Donegal is pretty amazing too. Are you knitting a sweater this fall?

10% off Studio Donegal from Nov. 18 through 28!

---


We Support Ukraine

Tina and Kelli have been working on some patterns and kits for sunflowers for Ukraine. Kits and patterns are available now with all profits going to World Central Kitchen or Global Giving.

You can order your Tatted, Med. Knotted Lace, or Embroidery kit here or order just the PDF pattern here. The PDF pattern will include all of the sunflower patterns we create in all of the needlearts.

---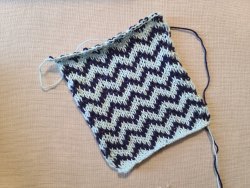 Blanket-A-Long with Purly Shell Pirates!!
Heather and Danielle, the Purly Shell Pirates, asked if we wanted to host a Temperature Blanket-A-Long and in true BlackSheep fashion, we said yes and no. We are making blankets, but with a twist.

This is a VERY relaxed Crochet/Knit/Stitch/Tat-a-long that you can join at any time. We have a Facebook group where we can chat and share inspiration. Tina's Grandma's Flower Afghan pattern is free to participants and Kelli's BlackSheep Blanket-A-Long pattern is too. We also have kits available in various colors, yarns, and palettes.

Plus, we decided it would be fun to have a stitch-a-long option too. Tina is stitching a monthly square and you can find those kits here. Kelli is also tatting a temperature table runner and has a free pattern on our Knit/Crochet-a-long page. If this sounds like fun to you, you can join the Facebook Group here or find out more info here.

---
We Talk and Teach Every Week!





Did you know we have giveaways, solicit ideas for "online skill videos," teach, and chat all week? Join Kelli & Tina on the YouTube channel, TikTok, Instagram, and Facebook. Leave a comment or send us an email if you want us to teach something specific.

---
Keep track of your points and rewards online! Did you know you can create a login and check your points balance through the website? You can even redeem your rewards through the website. You earn $5 back for every $100 spent whether from the website or a festival.


Go here to register.

:)


---
BlackSheep Fiber Emporium
634 E Main St
Hillsboro, OR 97124
503-380-8462
tina@blacksheepatorenco.com
Your online local store