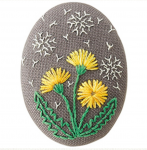 Olympus Embroidery Brooch Kit
These cute little embroidery kits come with everything you need to make a 1.5" x 2" brooch. Each kit comes with a pattern diagram, fabric, cardboard, pin frame and pin back, thread and needle to make your brooch. You will need glue.
$16.00
Olympus Variegated tatting Threads
Manufacturer #s:
501, 601, ...
Olympus threads are smooth/soft yet firm enough to tat beautifully. This 6 cord thread is made in japan and comes 40 meters to a ball. Variegated thread only available in size 40 and size 70 thread.
$5.00
Olympus Tatting Lace Thread
This beautiful Japanese brand tatting thread is soft and smooth to the touch but firm enough for great tatting projects. The color range reflects a Japanese aesthetic. Coming in sizes each ball contains 40 meters (99 yards) of thread
$5.00